Virtual Tours During COVID-19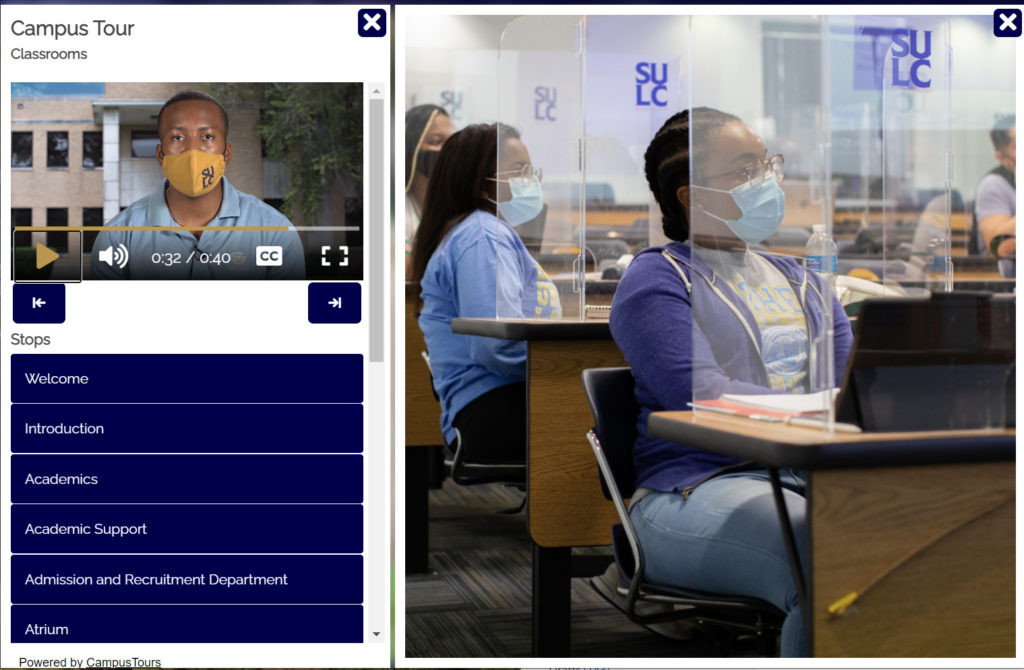 As campus closures multiplied in 2020 during the COVID-19 crisis, virtual tours became a lifeline for prospective students, parents, extended family and friends to research potential educational opportunities. Traffic to virtual tours and the CampusTours.com website more than tripled, and hundreds of institutions began developing interactive maps and virtual tours to meet the deluge of student interest.
CampusTours has worked with dozens of institutions in the wake of the COVID-19 crisis, and that has meant adopting a malleable approach to tour development, ensuring the safety of video guides, CampusTours staff and institutional administration members. CampusTours has developed a number of best practices, COVID-specific protocols and technical solutions in an effort to provide comprehensive services to organizations during the pandemic. Below is a short overview of what we have learned:
Interactive maps are easier to develop during COVID than guided tours
With access to campus limited, some students prohibited, and the entire community wearing masks, on-campus video and panoramic image shoots are more complex during the pandemic era. Interactive maps, on the other hand, offer a relatively immediate opportunity to provide a comprehensive and compelling treatment of campus, with the ability to integrate existing visual content immediately (photographs, panoramas, YouTube, Vimeo & Wistia videos) coupled with the opportunity to expand in the future. Interactive maps do not require that CampusTours representatives visit campus, so this option is also the safest as well.


Shooting tour videos during a pandemic requires creativity (and masks)
CampusTours has now conducted dozens of campus visits during the COVID-19 crisis, and our team has become adept at social distancing during shoots and working with our clients to provide solutions that meet each organization's unique requirements. CampusTours has shot tours with guides wearing masks, captured tours in outdoor parking garages as an alternative to indoor shoots, and become proficient in the myriad of state-by-state regulations that govern interstate travel and testing/quarantine requirements.


The story is often as important – if not more important – than the imagery.
While everyone understands the vital importance of compelling campus imagery in a virtual tour, a less understood but equally important aspect of the presentation is the narrative or tour script. Many virtual tours today rely almost exclusively on the imagery of campus to carry the presentation, and as a result can ironically seem quite dull to visitors. You wouldn't just drop prospective students off in the quad with no guide and tell them to walk the campus for an in-person tour. The story of the institution conveyed by the guides animates the visual images and provides the valuable context as to why we are looking at this panoramic image of the new science center. During the pandemic, with access to campus limited, many institutions have embraced the CampusTours WalkingTour service (example). WalkingTour allows organizations to rapidly deploy a compelling multi-stop virtual tour system based around video tour guides coupled with slideshows of existing still images.


Demand innovation from your virtual tour vendor
CampusTours has developed tours using video guides self-recorded by students on iPhones from the safety of their rooms. CampusTours has developed tours utilizing audio recordings of students in place of video guides (example) to expedite the rollout of tours when in-person video shoots prove problematic. CampusTours has developed video tours that utilize videos extracted from Zoom video-conferencing meetings (example). In the pandemic era, you need a flexible virtual tour vendor that can provide options when circumstances change.


Software-based virtual tours and interactive maps enable easy updates
CampusTours' software-based virtual tours and interactive maps allow organizations to generate presentations quickly and also facilitate updates to keep your presentation fresh and stocked with the latest videos and images. During the pandemic, many CampusTours clients have been enhancing and expanding their presentations using the new 2021 CampusTours MultiMedia Engine Content Management System (CMS).