Interactive Maps in Multiple Languages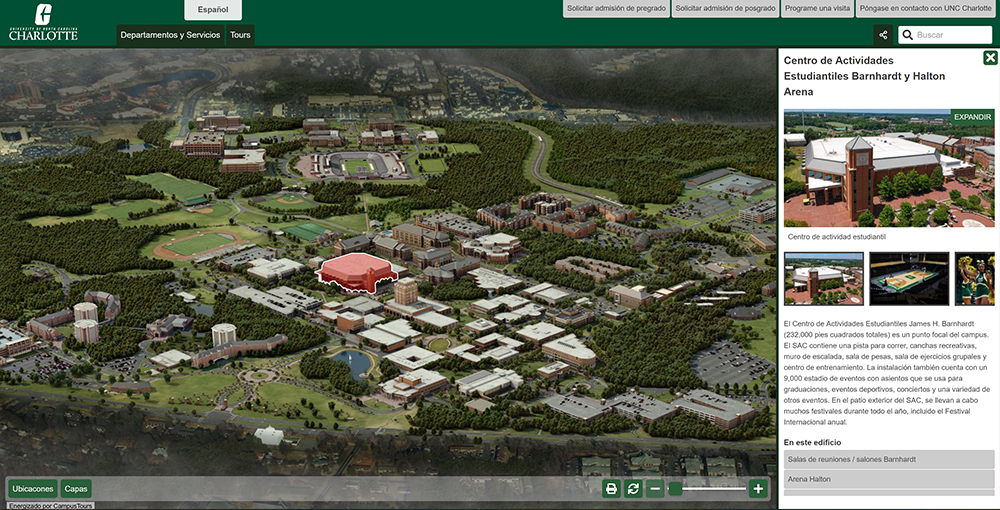 University of North Carolina at Charlotte Multiple-Language Interactive Campus Map
As international students apply to US institutions, colleges and universities are racing to update their digital media to address an increasingly multinational audience. Traditional school, college and university Websites are being revamped with emphasis on languages where the institutions recruit heavily, and now organizations are turning their attention to the components of the Web site, like virtual tours, financial calculators, and interactive campus maps that are more difficult to provide in multiple languages.
International Interactive Maps
There are a number of challenges to turning a traditional interactive map into a capable foreign language presentation.  While it is tempting to simply take the existing interactive map and run it through something like Google Translate, there are definite limitations to this approach. Many international students tell CampusTours that US college sites are easily identified when they use online translation software by the consistent mistakes throughout the text.  Furthermore, cultural differences and even the overwhelming preponderance of western students in building photos in the interactive map can have an effect on potential applicants.
Best Practices for Foreign Language Interactive Maps
CampusTours helps schools develop foreign-language tours for their international audiences.  Our experiences have led to some preliminary best practices for foreign language interactive maps:
Identify your target countries carefully, using data on applications as well as admits.  Also, check the YOY (year-over-year) changes in these statistics closely, as often new hot spots emerge quickly.
Obtain official translations of all your building content, layers etc, and do NOT use Google Translate as it tends to make rudimentary mistakes that undermine your international efforts
Translate the text of the building panels, layers and tool-tips (mouse-over text) on the map into the foreign language to provide a comprehensive solution
Consider creating a special layer or topic window in the map for International Students to discuss international student resources, housing and other support services on campus with links to the specifics of applications from foreign countries (special deadlines, remote interviews, TOEFL requirements, etc.)
Update the visual content of your foreign language map location(s) to reflect more international diversity
Highlight campus safety, tutoring, mentoring, campus police and the student support network, recognizing that you are speaking to parents that will be sending their children across the world to attend school
Some languages read from right to left (Arabic, etc) and will require additional customization to your map interface